New Year's Eve 2013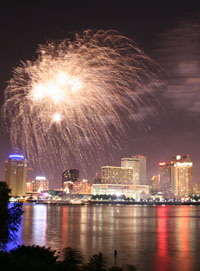 New Orleans is a great New Year's Eve destination for tourists – so much so that it was chosen as the top New Year's Eve destination by Travel + Leisure magazine. As visitors fill up the city to enjoy the first moments of 2013 in style, there will surely be a great deal of drinking and partying. Visitors and locals alike will be able to enjoy the fabulous fireworks display on the river at midnight, which is viewable from the French Quarter and famous Jackson Square, where bands will be playing during a nighttime festival ringing in the new year. Also, visitors will be in town for the Sugar Bowl to see my alma mater, Florida, take on Louisville on January 2.
As with all holidays in New Orleans, be sure to be careful and take a taxi or have a designated driver if you and your party will be drinking as part of the celebration.
Bloom Legal wishes everyone a very happy and healthy New Year!